Entertaining crowds throughout
West Michigan for over 40 years.
We are a water ski show team. 
We'd love to entertain you at one of our water ski show sites throughout the summer in the West Michigan area. Or even at our home base on Mona Lake, Michigan. We perform a variety of acts:  pyramids, doubles, trios, ballet line, swivel, ski jump, barefoot ski, trick ski and much more!
Or, better yet, come join our team! We will train you on all you need to know and help you learn, grow and stay safe in a sport we love to share. It takes a team effort for every act of a show and we have openings for all ages and skill levels.
Wondering how best to engage with GCSS?
Watch
Come watch our water-loving enthusiastic group perform at an event or just visit us at our home base on Mona Lake
Join
Come join us and share in the love of all things water ski
Sponsor
We love our sponsors - they align with our love of water, entertaining and mentoring. Want to sponsor us?
Skiers simply go...
where they are towed.
Love of all things Water Ski
New Year's Day Ski
It's tradition. We ski on New Year's Day if there isn't ice in our way. Call us crazy, but we love all things water. Wetsuits highly recommended.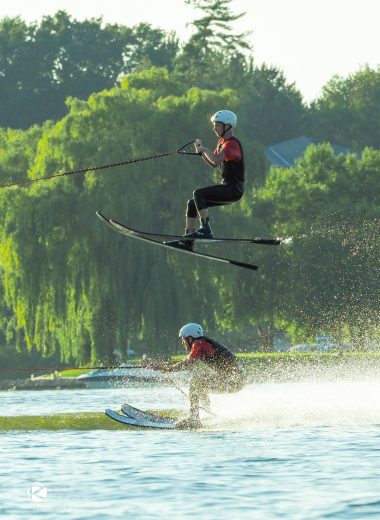 Home base at Mona Lake JUMPS
We now call Ross Park on Mona Lake, Michigan, our home base for practices and some of the events in our lineup. We couldn't be happier!! So... we jump for joy!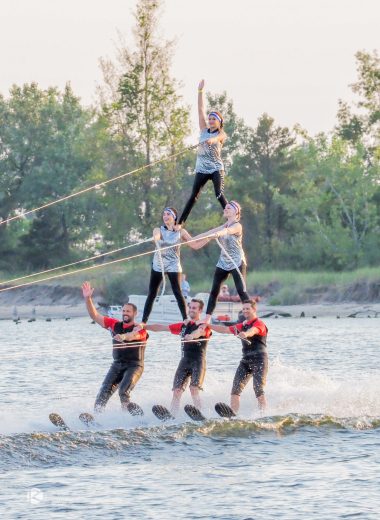 Remember, we do cool things
Every practice and every show we entertain by sharing what we love to do - waterski in style. Smiles aren't lost in this group. You might even call it a water ski family.
Watch or Join us. We'd love to welcome you.